The card for your holidays in Madonna di Campiglio Pinzolo Val Rendena
Many services and excursions in one card! With the DoloMeetCard you have all you need to experience a unique and unforgettable active holiday in Trentino. Among the many advantages you will also find excursions organized in the Dolomites with Pinzolo Rendena Valley Mountain Guides.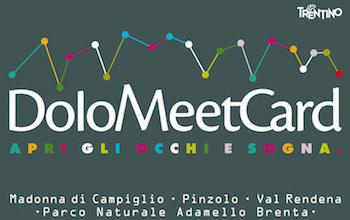 What services does the DoloMeetCard include?
The DoloMeetCard guarantees, in addition to many other services: 2 weekly activities to discover the area with the Mountain Guides from Rendena Valley.
For your summer and winter holidays in the Trentino mountains, choose the spectacular nature of the Brenta Dolomites, a UNESCO World Heritage Site and of Rendena Valley.
https://www.campigliodolomiti.it/lang/IT/pagine/dettaglio/estate_attiva,25/dolomeetcard,784.html
How it works and how to get it:
Book now in one of the partner hotels in Madonna di Campiglio, Pinzolo and Rendena Valley: you will receive the DoloMeetCard, your pass for an adventure holiday in Trentino all emotions and zero thoughts included in the price of the stay or at a discounted price. If the structure or the hotel in Rendena Valley where you book is not affiliated, you can still buy the card at the Madonna di Campiglio and Pinzolo tourist board offices.